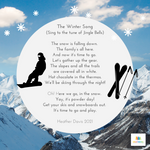 The writing prompt today is Christmas song. Christmas time means skiing and snowboarding for my family. I didn't dare try to change one of my favorite classic songs, but Jingle Bells seemed ready for an update. 
The Winter Song
(Sing to the tune of Jingle Bells)
The snow is falling down.
The family's all here.
And now it's time to go.
Let's gather up the gear.
The slopes and all the trails
are covered all in white.
Hot chocolate in the thermos.
We'll be skiing through the night!
Oh! Here we go, in the snow.
Yay, it's powder day!
Get your skis and snowboards out.
It's time to go and play.
Heather Davis 2021