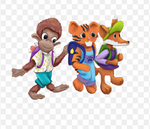 Mindset School Series
The Mindset School Series teaches children about the benefits of a Growth Mindset. 
Through these stories, children will learn important lessons that will help them gain a growth mindset. These lessons include important skills like learning from our mistakes, Not giving up if something is hard, and being courageous enough to try again. 
Each of the books in this series has a companion activity book to give children hands-on opportunities to practice these skills.