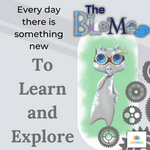 The Blomes from The Blomes & The Smooms and the Impossible Bridge
My new book "
The Blomes, the Smooms and the Impossible Bridge
" is available now in Paperback and eBook and I want to introduce you to the main characters.  This fun, engaging story teaches children the importance of working together, accepting people who are different than us, and embracing the things that make us unique and special.
These cute guys are very smart. They love to learn and invent.  They aren't worried about how things look. They are all about function.  While their side of the valley might lack color and decorations, it is a fun and exciting place to live because of all the new things being invented and discovered!  
Do you know someone who is like the Blomes? Do you relate to them?  I'll tell you a secret, I am more of a Blome.  I love to learn! Learning new things is one of my favorite things.  I would rather have the time and resources to learn a new language or subject then a new wardrobe or a spa day.  It doesn't mean I can't appreciate beauty and art, it's just that it's not something I'm passionate about or very skilled in.  I'm grateful other people are. My dad was a  Blome.  He was one of the most intelligent people I have ever known and he loved to learn new things.  He was always building fun things to make people happy like the Hobbit House he made out of the little hill in my sisters yard.  His imagination was always working and he had the ability to see potential in everything, even things that looked like trash to other people.  I really miss him and a big part of the reason I love the Blomes so much is that they remind me of my dad.